Du rêve à la réalité, du laboratoire au marché

Boost your business by integrating tomorrow's innovations

Rely on the skills of Public Research

Discover
the SATT
The technology transfer accelerator

Protect and develop
your inventions
Researchers, upload your invention declaration
FROM INVENTION TO INNOVATION,
TOGETHER, ACCELERATE
THE TRANSFER OF TECHNOLOGIES
Rapport annuel 2021
Rapport annuel 2020
Annual Report 2019
SATT South-East SATT DEVELOPES COMPETITIVENESS THROUGH INNOVATION IN PUBLIC RESEARCH IN THE PACA AND CORSICA REGIONS.
Its core business is the maturation of inventions from the regional research laboratories on the legal (intellectual property), economic (market) and technological (technological maturation) levels.
Its objective is to transfer innovative technologies from its shareholders to the industrial world by licensing them to companies.

Declarations of Invention

Registered Intellectual Property Assets


Millions of Euros Invested in Maturation


Millions Raised by Start-ups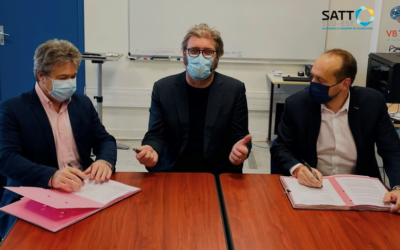 La SATT Sud-Est concède une licence exclusive mondiale à la start-up VB-Tech de la technologie du Cerveau Virtuel développée par l'INS (Institut des Neurosciences des Systèmes) d'Aix-Marseille Université. La technologie concernée cible la prise en charge des...
Moving from invention to innovation is a wonder. And we're lucky, it's what we do.
Find out how SATT South-East accelerates technology transfer by bringing together research and business players. From patents to operating licences, including proof of concept, SATT Sud-Est is a key player in the South and Corsica regions in the field of innovation.



The South-East SATT
Project financed with the support of the European Union with the European Regional Development Fund.