Siège social
SATT Sud-Est, Le Silo,
35 Quai du Lazaret, CS 70545
13304 Marseille Cedex 02
Tél : 04 91 91 91 20
Metro: line 2: " Joliette " station
Tramway: line 2: " Euroméditérranée Gantès " stop / line 3: " Euroméditérranée Gantès " stop
Bus: 35, 35T, 82 : stop " Le Silo ".
Train/bus: St Charles TGV station
Car:
Parking " Euromed Center " : located at 52 Quai du Lazaret - 13002 Marseille (opposite the Silo)
Parking " Les Terrasses du Port " : 9 Quai du Lazaret - 13002 Marseille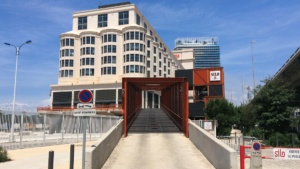 Délégation Côte d'Azur
Campus SophiaTech
930 Route des Colles
BP 145
06903 Sophia Antipolis
Moving from invention to innovation is a wonder. And we're lucky, it's what we do.
Find out how SATT South-East accelerates technology transfer by bringing together research and business players. From patents to operating licences, including proof of concept, SATT Sud-Est is a key player in the South and Corsica regions in the field of innovation.



The South-East SATT
Project financed with the support of the European Union with the European Regional Development Fund.

Learn more about the SATT
Learn more about an innovation
Consult the start-ups offers
Technology Transfer Department
Marketing & Communication Department
Legal & Intellectual Property Department
Administrative & Financial Department