The SATTs are mobilising to support companies in their search for R&D partnerships during the Rendez-vous CARNOT 2019, on 16 and 17 October at the Espace Champerret in Paris.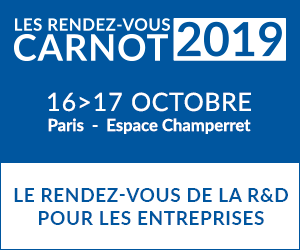 The SATTs are present to meet with innovative companies.
Les Rendez-vous CARNOT is a business fair, created in 2008, allowing companies of all sizes and from all sectors of activity to get in touch with the major players in R&D and innovation. This event is organized by the Association of CARNOT Institutes and for the past 10 years has been bringing together organizations offering R&D solutions and companies' innovation project leaders. Rendez-vous CARNOT is recognized for its efficiency, notably through the organization of individual meetings, scheduled in advance. On the programme there will be conferences and round tables on prospective visions by specialists, innovation support systems and on testimonials and feedback from companies.
The SATTs will present their innovative nuggets on the SATT Network stand.
More than a dozen SATTs will be present at the SATT Network stand (stand E34) to present their technologies in a wide range of sectors. The South-East SATT will offer technologies in the following areas:
- Digital Culture, Heritage & Humanities
- Environment, energies & territories
- Industrial processes
- Health & life technologies
- Connected Information Society
To go further:
Dates: October 16 and 17
Place: Espace Champerret - Paris
Twitter
@sattse_ #R&D #Innovation @RDV_CARNOT @NetworkSATT